Prolong independence
Using a CPR Guardian smartwatch with our CPR Guardian monitoring service can prolong the independence of vulnerable and elderly people, helping them to remain in their home environment rather than having to go into care.
The technology
The CPR Guardian II looks just like any other watch, but it has straightforward features that make it easy to summon help in an emergency. It can track and send the wearer's location, monitor heart rate, and will automatically send an alert if the wearer has a fall or ventures out of a particular geographical area.
Each feature can be turned on/off depending on individual needs.
Key features:
GPS tracking and instant location alerts for family members
Fall detection and SOS button
Wear with confidence: looks like any other smartwatch, with discreet, easy-to-use safety features
Stay connected: we combine every UK mobile network for maximum signal coverage
Geo safety zones: automatically sends notifications when the wearer travels to another area
Continuous health monitoring: key health data collected every ten minutes
Make phone calls and send voice messages as you would with any phone
Monitor steps and heart rate
IP67 waterproof
Hypoallergenic strap for sensitive skin
Wireless software updates
12 months accidental damage cover Included
Complete piece of mind
The CPR Guardian is backed by 24/7 monitoring services, provided by Taking Care, part of AXA Health.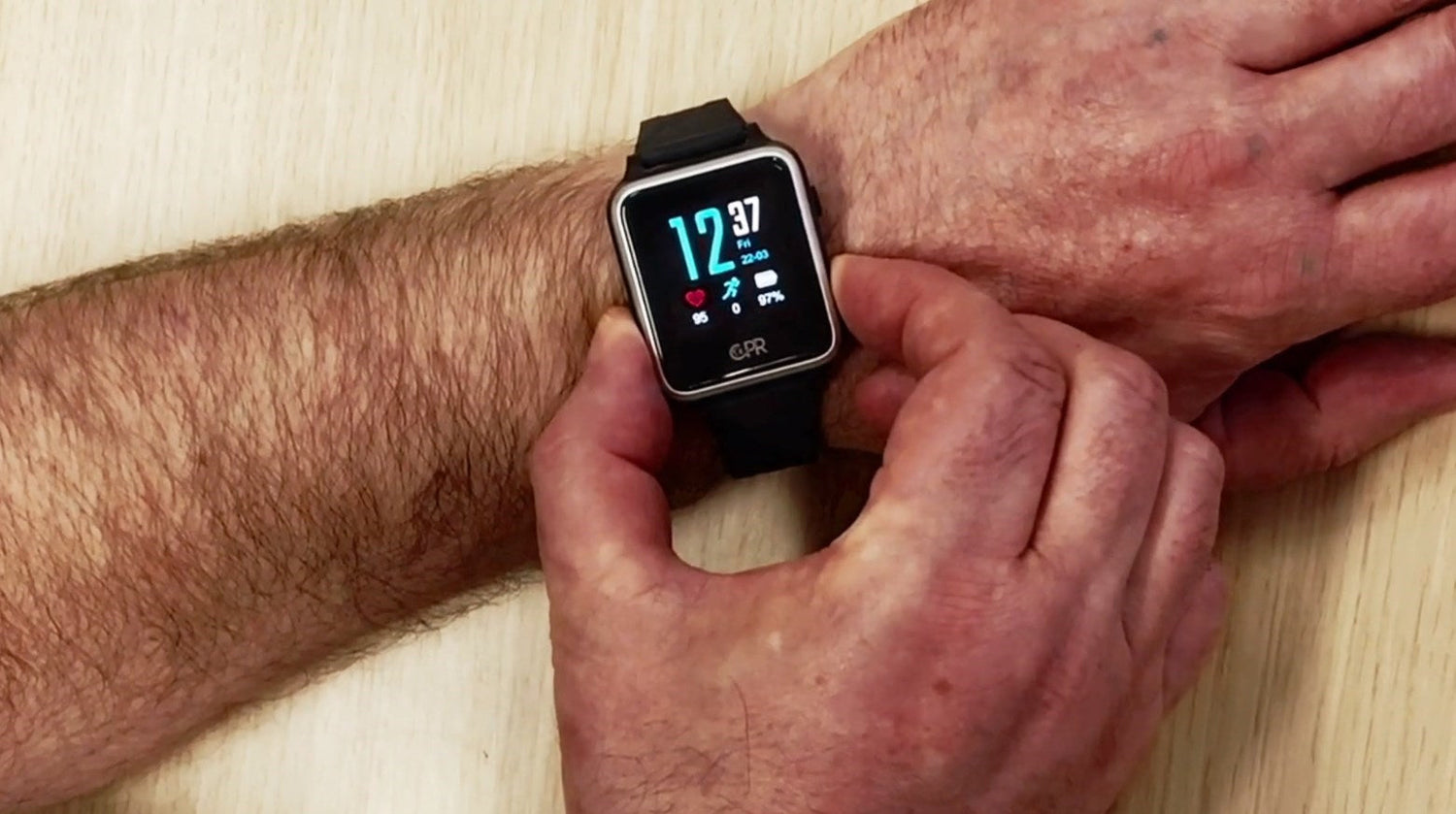 The CPR Guardian can call for help, alerting our 24/7 response operatives in several ways:

When the SOS alarm button is pressed

When the wearer leaves a designated safety zone

When the wearer's heart rate drops below 30bpm
Our award winning monitoring centre provides emergency support in 30 seconds or less
The average response time to an emergency is over two hours, this can be very worrying for family and friends who may have the best intentions of caring for their vulnerable loved ones but may not always have the time. The CPR Guardian drastically reduces this response time to 30 seconds and constantly monitors the wearer.
The CPR Guardian can make caring for those living with dementia or Alzheimer's easier while also providing them with a better quality of life and prolonging independence. While simultaneously providing complete peace of mind and reassurance when needed. You can count on us to be there for the people you love most, when they need it the most.
Your total monitoring solution
With Guardian monitoring you get:
• 24/7 telecare support, connecting the wearer to human assistance • Unlimited tracking via the Guardian app on your smartphone • Unlimited voice messages, phone calls and data • Heart rate monitoring • Fall detection • Nationwide GPS tracking • Outstanding phone coverage via our SIM that selects the best network in any location • Alerts whenever the wearer leaves a designated area; set your chosen geo zone • Instant SOS calls when the wearer presses a button
About the CPR Guardian mobile app monitoring
Every CPR Guardian smartwatch connects to the CPR Guardian monitoring app. Install our app on your tablet or smartphone and you can:
Manage multiple devices
View Realtime tracking information
View tracking playback
Set geo zones and get alerts when the wearer leaves them
Receive an alert when the wearer has a fall, their heart rate drops
Be alerted when the wearer presses the SOS button
Set SOS contacts Send voice messages to the device
Voice call the device
Measure heartrate from the APP
Edit device and user information
View Alarm, Device and user statistics
CPR Guardian Web portal monitoring
Every CPR Guardian smartwatch also connects to the CPR Guardian web portal.
Through this you can:
Manage 1000s of devices
View Realtime tracking information
View tracking playback
View Heart rate and pedometer data
Set geo zones and be alerted when a wearer leaves one
Receive alarm notification
Edit device and user information
View alarm, device and user statistics.
REVIEW
"Service is excellent."
"Service is excellent. Pre sales and post sales support excellent. The watch phone (guardian 2) is great, and worth the money. If you know someone that may get lost, this phone allows you to locate them. Has provided peace of mind for my mother when she lost my father (Alzheimer's) on several occasions."
- Krishna
CPR GUARDIAN CUSTOMER